On November 1, 2018, the retail giant Amazon voluntarily raised its minim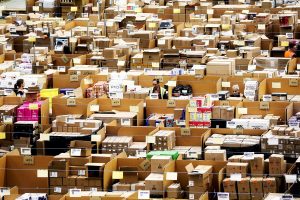 um wage for US employees to $15 per hour. The wage increase applies to full time, part-time, seasonal, and temporary workers, including Whole Foods Market employees. The company plans to increase the wages of others currently making more than $15 per hour, but it has not been specific about the amount or time frame of such an  increase.
Amazon's announcement of the wage hike followed a reveal earlier this year naming Amazon the second largest private company in the US (following #1 Apple), and its founder and CEO, Jeff Bezos, the richest man in the world. With Bezos' current net worth estimated at $165 billion, and Amazon's worth topping $1trillion, Amazon has been spotlighted for it's reported low median wage of $28,446. The company was quick to clarify that this number is actually the median wage for employees world-wide, and $34,123 is the correct median wage for US employees. As a median wage, this means that fully half of Amazon's employees make less than $34,123. Amazon, Walmart, and other mega-corporations are under fire for the huge disparity in wages between their CEOs (some of the world's richest individuals) and their employees, many of whom require government subsidies to care for their families.